Inovasi Olahan Durian
Waryono Waryono

Universitas Negeri Padang
Abstract
Kenagarian Barung Barung Belantai Selatan District of Koto XI Tarusan an expansion in 2009 villages of the parent Kenagarian Barung Barung Belantai. This area has a huge agricultural potential such as gambier plant, nutmeg, clove, rubber especially durian abundant. The abundance of this potential can be seen along the road Padang to Painan, many traders durian, and this is the main attraction for people who come to visit the Pesisir Selatan. Visitors would stop by for a taste of durian famous delicious and sticky. Each harvest durian fruit durian abundance so that the selling price is sometimes cheaper. Not to mention the cost of transport to bring durian harvest from the farm/plantation residents require huge costs. As a result, residents sometimes let alone durian harvest wasted. State University of Padang conducted training for mothers of households made into various processed durian cake durian and wingko durian. Wali local village residents can expect to process durian become typical food and souvenirs from this area so as to increase family economy and to support the development of the tourism of Pesisir Selatan.
Downloads
Download data is not yet available.
References
[1] Ide Masak. 2012. All About Durian. Jakarta: PT. Gramedia Pustaka Utama.
[2] Kartini. Jamuan Lebaran 2006. Bolu Durian. Hal 72.
[3] Lilly T Erwin. 2003. Seri Makanan Favorit: Variasi Kue Wingko. Jakarta: PT. Gramedia Pustaka Utama.
[4] Nindya Widoyo. 2010. 40 Sajian Lezat Hasil Olah Durian. Jakarta: PT. Gramedia Pustaka Utama.
[5]Yeni Ismayani. 2012. 101 Tips Jitu Antigagal: Sukses Membuat Cake. Jakarta: PT. Gramedia Pustaka Utama.
[6]http://berita.pesisirselatankab.go.id/berita/detail/buah-durian-melimpah-di-kenagarian-barung-barung-balantai-selatan
Diakses tanggal 28 Juli 2018 12.27 WIB
[7]http://gizigizian.blogspot.com/2014/06/manfaat-durian-dan-bijinya.html
Diakses tanggal 28 Juli 2018 12.46 WIB
[8]https://blog.tokopedia.com/2015/03/kamu-pecinta-durian-ini-dia-10-makanan-olahan-dari-durian-yang-wajib-dicoba/
Diakses tanggal 31 Maret 2016 11.35 WIB
[9]http://www.satujam.com/ini-dia-aneka-olahan-durian-yang-bikin-kamu-ngiler/ Diakses tanggal 31 Maret 2016 11.37 WIB
[10]http://id.wikipedia.org/wiki/Durian
Diakses tanggal 31 Maret 2016 11.00 WIB
[11]http://uternak.blogspot.com/2013/03/budidaya-durian_10.html
Diakses tanggal 28 Juli 2018 12.49 WIB
[12]https://www.tipscaramanfaat.com/kandungan-gizi-dan-manfaat-buah-durian-469.html
Diakses tanggal 28 Juli 2018 12.52 WIB
[13]https://www.kompasiana.com/ridwan.sami/5500f601a3331118705126b3/cara-memilih-durian Diakses tanggal 28 Juli 2018 12.59 WIB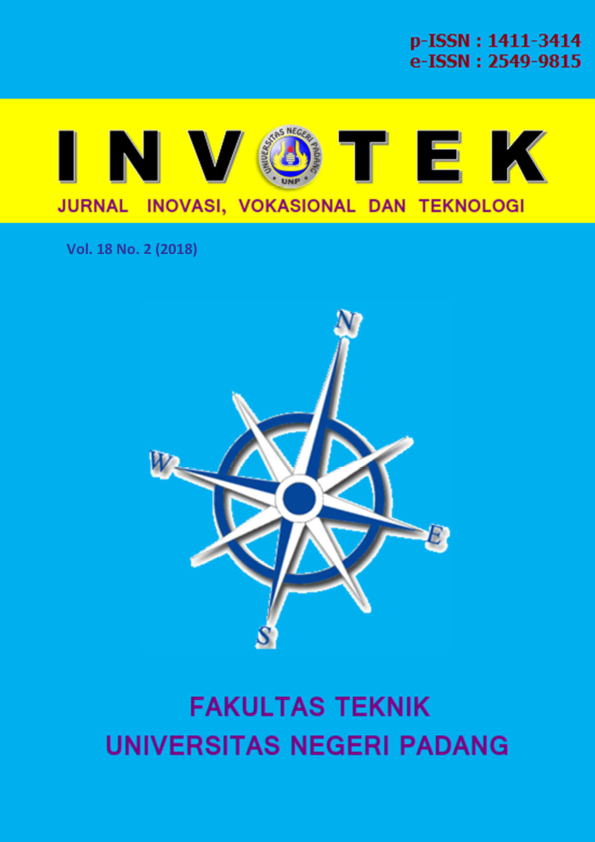 How to Cite
Waryono, W. (2018). Inovasi Olahan Durian. INVOTEK: Jurnal Inovasi Vokasional Dan Teknologi, 18(2), 35-40. https://doi.org/https://doi.org/10.24036/invotek.v18i2.272
Please find the rights and licenses in INVOTEK.
1. License
The non-commercial use of the article will be governed by the Creative Commons Attribution license as currently displayed on Creative Commons Attribution-NonCommercial-ShareAlike 4.0 International License.

2. Author(s)' Warranties
The author(s) warrants that the article is original, written by stated author(s), has not been published before, contains no unlawful statements, does not infringe the rights of others, is subject to copyright that is vested exclusively in the author and free of any third party rights, and that any necessary permissions to quote from other sources have been obtained by the author(s).
3. User Rights
INVOTEK adopts the spirit of open access and open science, which disseminates articles published as free as possible under the Creative Commons license.INVOTEK permits users to copy, distribute, display, and perform the work for non-commercial purposes only. Users will also need to attribute authors and INVOTEK on distributing works in the journal.
4. Rights of Authors
Authors retain the following rights:
Copyright, and other proprietary rights relating to the article, such as patent rights,
the right to use the substance of the article in future own works, including lectures and books,
the right to reproduce the article for own purposes,
the right to self-archive the article.
the right to enter into separate, additional contractual arrangements for the non-exclusive distribution of the article's published version (e.g., post it to an institutional repository or publish it in a book), with an acknowledgement of its initial publication in this journal INVOTEK
5. Co-Authorship
If the article was jointly prepared by other authors; upon submitting the article, the author is agreed on this form and warrants that he/she has been authorized by all co-authors on their behalf, and agrees to inform his/her co-authors. INVOTEK will be freed on any disputes that will occur regarding this issue.
7. Royalties
By submitting the articles, the authors agreed that no fees are payable from INVOTEK.
8. Miscellaneous
INVOTEK will publish the article (or have it published) in the journal if the article's editorial process is successfully completed and INVOTEK or its sublicensee has become obligated to have the article published. INVOTEK may adjust the article to a style of punctuation, spelling, capitalization, referencing and usage that it deems appropriate. The author acknowledges that the article may be published so that it will be publicly accessible and such access will be free of charge for the readers.