SISTEM COMPUTER VISION BERBASIS METODE POSITION AVERAGING POINT UNTUK PEMILAH IKAN LELE
Aditya Kurniawan

Politeknik Kota Malang

Kholilatul Wardani

Politeknik Kota Malang
Keywords:
machine vision, averaging point, ikan lele, pearson
Abstract
Pada penelitian ini dibuat aplikasi machine vision yang menggunakan algoritma averaging point untuk mengatasi kesalahan pengukuran panjang ikan lele secara visual dikarenakan posisi tubuh (lengkungan) objek ukur yang bervariasi.algoritma ini bekerja dengan cara menentukan titik tengah, batas kiri dan kanan objek, serta menarik sebuah garis lurus yang melewati titik tengah untuk mengukur panjang objek. Rata rata akurasi pengukuran dengan menggunakan algoritma ini adalah 96.5 %. Simpangan / error terbesar adalah 2.5 mm pada lengkungan dengan penyusutan dari ujung ke ujung sebesar 30%. Berdasarkan perhitungan Pearson Correlation, disimpulkan bahwa lengkungan memiliki hubungan sebab akibat yang kecil terhadap error dalam pengukuran panjang ikan dengan konstanta pearson sebesar 0.26.
Downloads
Download data is not yet available.
References
[1] Lim, Kelvin K. P. Clarias batu, a New Species of Catfish (Teleostei: Claridae) from Pulau Tioman, Peninsular Malaysia. The Raffles Bulletin of Zoology. Malaysia. 1999; 6: 157–167
[2] Misimi, E., Mathiassen., Erikson, U. Computer Vision – Based Sorting of Atlantic Salmon (Salmo salar) Fillets According to Their Color Level. Journal of Food Science. -. 2007; 72:1
[3] Ng, Heok Hee. Clarias insolitus, a new species of clariid catfish (Teleostei: Siluriformes) from southern Borneo. Zootaxa. -. 2003; 284:1-8
[4] Sudarto, Teugels, Guy G, Pouyaud, Laurent. Description of a New Clariid Catfish, Clarias pseudonieuhofii from West Borneo (Siluriformes: Clariidae). Zoological Studies. -. 2004; 43:8-19
[5] White, D.J. Automated Measurement of Species and Length of Fish by Computer Vision. University of Aberdeen Journal. United Kingdom. 2006;
[6] Kenneth R, Castleman. Digital Image Processing. 1st. - : Prentice Hall. 1996: 245.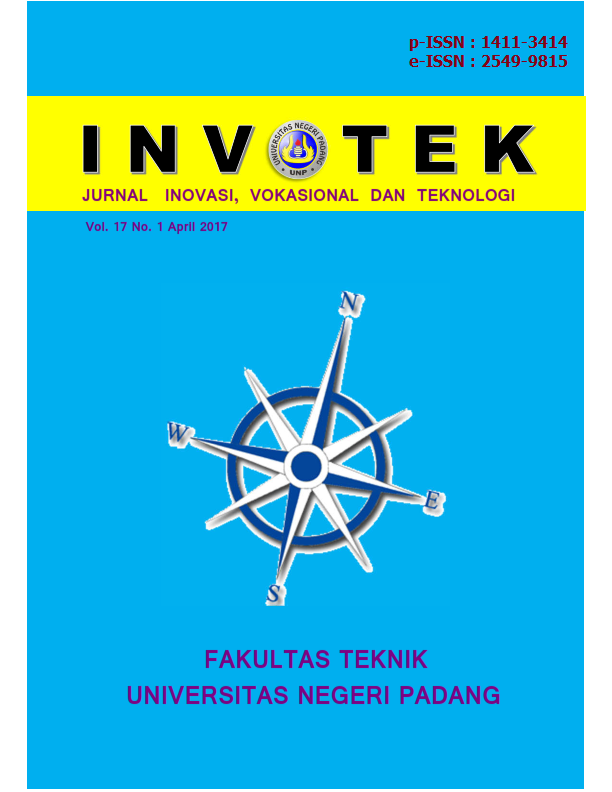 How to Cite
Kurniawan, A., & Wardani, K. (2017). SISTEM COMPUTER VISION BERBASIS METODE POSITION AVERAGING POINT UNTUK PEMILAH IKAN LELE. INVOTEK: Jurnal Inovasi Vokasional Dan Teknologi, 17(1), 103-106. https://doi.org/https://doi.org/10.24036/invotek.v17i1.31
Please find the rights and licenses in INVOTEK.
1. License
The non-commercial use of the article will be governed by the Creative Commons Attribution license as currently displayed on Creative Commons Attribution-NonCommercial-ShareAlike 4.0 International License.

2. Author(s)' Warranties
The author(s) warrants that the article is original, written by stated author(s), has not been published before, contains no unlawful statements, does not infringe the rights of others, is subject to copyright that is vested exclusively in the author and free of any third party rights, and that any necessary permissions to quote from other sources have been obtained by the author(s).
3. User Rights
INVOTEK adopts the spirit of open access and open science, which disseminates articles published as free as possible under the Creative Commons license.INVOTEK permits users to copy, distribute, display, and perform the work for non-commercial purposes only. Users will also need to attribute authors and INVOTEK on distributing works in the journal.
4. Rights of Authors
Authors retain the following rights:
Copyright, and other proprietary rights relating to the article, such as patent rights,
the right to use the substance of the article in future own works, including lectures and books,
the right to reproduce the article for own purposes,
the right to self-archive the article.
the right to enter into separate, additional contractual arrangements for the non-exclusive distribution of the article's published version (e.g., post it to an institutional repository or publish it in a book), with an acknowledgement of its initial publication in this journal INVOTEK
5. Co-Authorship
If the article was jointly prepared by other authors; upon submitting the article, the author is agreed on this form and warrants that he/she has been authorized by all co-authors on their behalf, and agrees to inform his/her co-authors. INVOTEK will be freed on any disputes that will occur regarding this issue.
7. Royalties
By submitting the articles, the authors agreed that no fees are payable from INVOTEK.
8. Miscellaneous
INVOTEK will publish the article (or have it published) in the journal if the article's editorial process is successfully completed and INVOTEK or its sublicensee has become obligated to have the article published. INVOTEK may adjust the article to a style of punctuation, spelling, capitalization, referencing and usage that it deems appropriate. The author acknowledges that the article may be published so that it will be publicly accessible and such access will be free of charge for the readers.