Rancang Bangun Media Pembelajaran Mini Trainer IC 555
Irma Yulia Basri

Universitas Negeri Padang

Arsyfadhillah Arsyfadhillah

Universitas Negeri Padang

Dedy Irfan

Universitas Negeri Padang

Thamrin Thamrin

Universitas Negeri Padang
Keywords:
Media Pembelajaran, Mini Trainer IC 555, hasil belajar
Abstract
Universitas Negeri Padang (UNP) merupakan salah satu perguruan tinggi negeri yang mencetak lulusan untuk siap kerja. Perkembangan dunia industri khusus nya di bidang otomotif yang mengarah ke sistem elektronik, mau tidak mau Jurusan Teknik Otomotif FT UNP harus membekali lulusannya dengan kemampuan yang relevan dengan tuntutan dunia kerja tersebut. Pembelajaran listrik dan elektronika merupakan mata kuliah yang angka kegagalannya cukup tinggi bagi mahasiswa. Berbagai upaya sudah dilakukan oleh dosen pengampu mata kuliah untuk meningkatkan hasil belajar mahasiswa, akan tetapi hasilya masih belum memuaskan.. Pembelajaran sudah dilakukan dengan menggunakan media power poin akan tetapi hasilnya belum maksimal dalam pencapaian hasil belajar mahasiswa di bidang listrik dan elektronika. Berdasarkan penelitian yang sudah dilakukan para ahli, salah satu cara untuk meningkatkan kualitas pembelajaran adalah dengan menggunakan media pembelajaran yang lebih inovatif, bersifat nyata dan langsung bisa diamati, salah satunya adalah mini trainer IC 555.
Downloads
Download data is not yet available.
References
[1] Basri, IY,. & Adri, M. (2011). Pemanfaatan Animasi Multimedia pada Mata Kuliah Kimia Teknik untuk Peingkatan Pemahaman Mahasiswa terhadap Konsep Kimia. Jurnal teknologi Informasi dan Pendidikan. Volume 4, No 1 Edisi September 2011.
[2] Sukmawardana, Y., dkk. (2016). Pembuatan Media Pembelajaran Trainer Instalasi Listrik Penerangan pada Mata Pembelajaran Instalasi Listrik Untuk Meningkatkan hasil belajar Siswa Kelas XI SMK PGRI 1 Mijayan tahun Pelajaran 2015/2016. Jurnal Pendidikan Teknik Elektro. Volume 1, Nomor 2 Edisi Oktober 2016, 70-76.
[3] Hastuti,. dkk. (2017). Penerapan Trainer Omron sebagai Media Pembelajaran Mata Diklat Instalasi Motor Listrik. Jurnal Invotek. Volume 17, No 1 Edisi April 2017.
[4] Haryawan, A. Salechan. 2017. Pengembangan Bahan Ajar Mikrokontroler Berbasis Arduino Sebagai Media Pembelajaran Mata Kuliah Mikrokontroler di Politeknik Pratama Mulia Surakarta. POLITEKNOSAINS, Vol. XVI, No 2, September 2017
[5] Susilo & Suyitno. (2017). Pengembangan Media Pembelajaran Trainer Kelistrikan untuk meningkatkan Hasil belajar Siswa SMK Muhammadiyah Kutowinangun. Jurnal Pendidikan Teknik Otomotif_Universitas Muhammadiyah Purwokerto. Volume 10, No 10 Edisi Juli 2017.
[6] Bishop, Owen. 2002. Dasar-Dasar Elektronika. Jakarta: Erlangga.
[7] Blocher, Richard. 2004. Dasar Elektronika. Yokyakarta: Andi.
[8] Daryanto. 2011. Pengetahuan Teknik Eloktronika. Malang: Bumi Aksara.
[9] Malvino, Albert Paul. 1996. Prinsip-Prinsip Elektronika(jilid 2). Jakarta: Erlangga.
[10] Sugiyono. (2013). Metode Penelitian Pendidikn Pendekaran Kuantitatif, Kualitatif dan R&D. Bandung: Alfabeta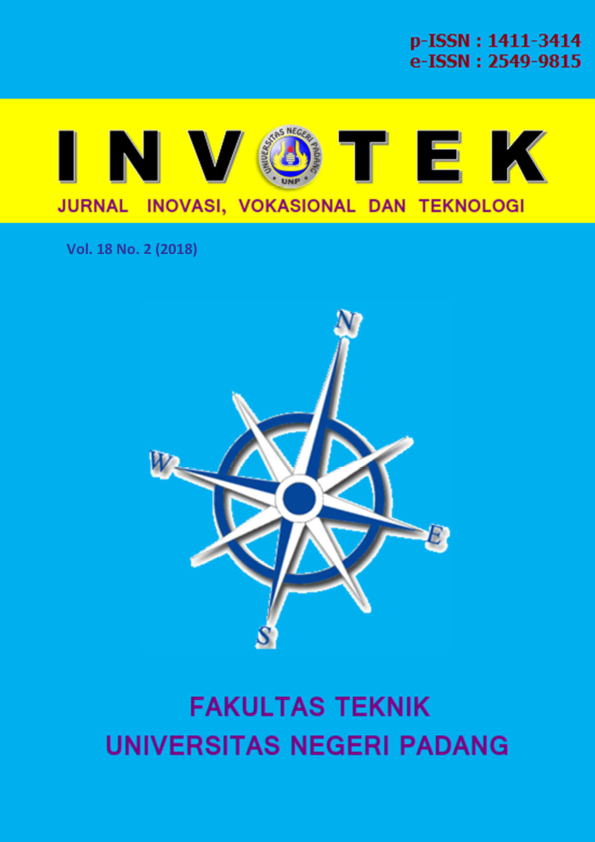 How to Cite
Basri, I., Arsyfadhillah, A., Irfan, D., & Thamrin, T. (2018). Rancang Bangun Media Pembelajaran Mini Trainer IC 555. INVOTEK: Jurnal Inovasi Vokasional Dan Teknologi, 18(2), 65-76. https://doi.org/https://doi.org/10.24036/invotek.v18i2.332
Please find the rights and licenses in INVOTEK.
1. License
The non-commercial use of the article will be governed by the Creative Commons Attribution license as currently displayed on Creative Commons Attribution-NonCommercial-ShareAlike 4.0 International License.

2. Author(s)' Warranties
The author(s) warrants that the article is original, written by stated author(s), has not been published before, contains no unlawful statements, does not infringe the rights of others, is subject to copyright that is vested exclusively in the author and free of any third party rights, and that any necessary permissions to quote from other sources have been obtained by the author(s).
3. User Rights
INVOTEK adopts the spirit of open access and open science, which disseminates articles published as free as possible under the Creative Commons license.INVOTEK permits users to copy, distribute, display, and perform the work for non-commercial purposes only. Users will also need to attribute authors and INVOTEK on distributing works in the journal.
4. Rights of Authors
Authors retain the following rights:
Copyright, and other proprietary rights relating to the article, such as patent rights,
the right to use the substance of the article in future own works, including lectures and books,
the right to reproduce the article for own purposes,
the right to self-archive the article.
the right to enter into separate, additional contractual arrangements for the non-exclusive distribution of the article's published version (e.g., post it to an institutional repository or publish it in a book), with an acknowledgement of its initial publication in this journal INVOTEK
5. Co-Authorship
If the article was jointly prepared by other authors; upon submitting the article, the author is agreed on this form and warrants that he/she has been authorized by all co-authors on their behalf, and agrees to inform his/her co-authors. INVOTEK will be freed on any disputes that will occur regarding this issue.
7. Royalties
By submitting the articles, the authors agreed that no fees are payable from INVOTEK.
8. Miscellaneous
INVOTEK will publish the article (or have it published) in the journal if the article's editorial process is successfully completed and INVOTEK or its sublicensee has become obligated to have the article published. INVOTEK may adjust the article to a style of punctuation, spelling, capitalization, referencing and usage that it deems appropriate. The author acknowledges that the article may be published so that it will be publicly accessible and such access will be free of charge for the readers.