Analisis Perubahan Output Sensor Terhadap Kerja Aktuator pada Sistem EFI (Electronic Fuel Injection)
Toto Sugiarto

Universitas Negeri Padang

Dwi Sudarno Putra

Universitas Negeri Padang

Wawan Purwanto

Universitas Negeri Padang

Wagino Wagino

Universitas Negeri Padang
Keywords:
Sensor and Actator EFI System, Injection Time, Ignition Timing, Idle Speed Control Valve, Intake Camshaft Timing
Abstract
Penelitian ini bertujuan untuk: (1) Mendeskripsikan bagaimana sensor-sensor dalam sistem EFI bekerja pada putaran idle, mesin rotasi tingkat menengah dan tinggi, dengan melihat sensor output. (2) Mengetahui pekerjaan aktuator pada Sistem EFI pada putaran idle, mesin rotasi tingkat menengah dan tinggi. Metode eksperimen digunakan untuk penelitian ini. Mesin EFI dengan tipe D EFI yang digunakan telah dianalisis. Alat pindai digunakan untuk mengamati untuk mengukur output yang dihasilkan oleh sensor dan mengukur kerja aktuator sistem EFI menggunakan alat Pindai. Dari percobaan ditemukan bahwa peningkatan putaran mesin akan menghasilkan peningkatan kerja aktuator pada Sistem EFI, yang terdiri dari Injeksi Waktu dan Pengisi Waktu Pengapian, tetapi untuk Idle Speed ​​Control Valve (ISCV) dan Intake Camshaft Timing perubahan relatif stabil.
Downloads
Download data is not yet available.
References
[1] Purwanto, Wawan. Sugiarto, Toto. Fernandez, Donny. (2012). Analisa kerja Manifold Absolute Pressure (MAP) pada D-EFI dan Mass Air Flow Sensor (MAFS) pada L EFI serta emisi yang dihasilkan oleh kedua sistem EFI tersebut. Fakultas Teknik UNP. Hasil Penelitian FT UNP.
[2] Rasydah and Sugiarto, Toto. (2013). Analisa Kerja Manifold Absolute Pressure (Map) dan Kadar Kandungan Emisi Gas Buang yang Dihasilkan pada Motor Bensin dengan Sistem Injeksi Elektronik Type D-Efi. Jurnal Elektron , 5 (2). pp. 69-74. ISSN 2085-6989
[3] Sudarno, Putra Dwi. Sugiarto, Toto. Purwanto, Wawan. (2017). Analisa Re-karakterisasi Sensor Engine Coolant Temperature (ECT). Vol. 1, No.2. JIT Jurnal Ilmu Pengetahuan dan Teknologi. Politeknik Kota Malang. ISSN 2548-8686. ISSN Online 2548-8597. Hal. 40 - 46
[4] Sugiarto, Toto. Sudarno, Putra Dwi. dan Purwanto, Wawan. ( 2017). Effect of engine temperature changes on injection time of fuel and gas emission of gasoline engine. Prosiding.International Conference on Technical and Vocational Education and Training. Padang. Fakultas Teknik Universitas Negeri Padang. ISBN : 978-602-1178-11-9
[5] Sugiarto, Toto. Sudarno, Putra Dwi. dan Purwanto, Wawan. ( 2017). Analysis on the role of engine coolant temperature sensor in gasoline engine. VANOS Jurnal of Mechanical Engineering Education. Vol.2, Nomor. 2, hal. 145 – 151. ISSN 2558 – 2611
[6] Toyota. (2010). Training Engine Step 1. Jakarta. PT. Toyota Astra Motor
[7] Daihatsu. (2010). Engine Step 1 Training. Jakarta. PT Daihatsu Astra Motor
[8] Junisra Syam. (2009). Sistem bahan bakar EFI. Jakarta. PT. TTA International
[9] TTA. (2010). Dasar-Dasar Sistem EFI. Jakarta: PT. TTA International
[10] Toyota. (2008). Service Manual Toyota Kijang Innova . Jakarta. PT. Toyota Astra Motor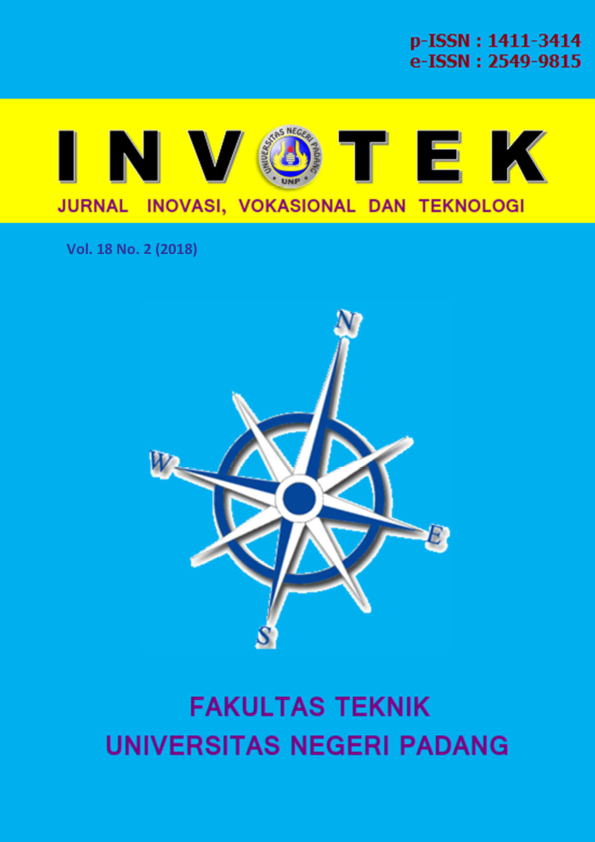 How to Cite
Sugiarto, T., Putra, D., Purwanto, W., & Wagino, W. (2018). Analisis Perubahan Output Sensor Terhadap Kerja Aktuator pada Sistem EFI (Electronic Fuel Injection). INVOTEK: Jurnal Inovasi Vokasional Dan Teknologi, 18(2), 91-100. https://doi.org/https://doi.org/10.24036/invotek.v18i2.418
Please find the rights and licenses in INVOTEK.
1. License
The non-commercial use of the article will be governed by the Creative Commons Attribution license as currently displayed on Creative Commons Attribution-NonCommercial-ShareAlike 4.0 International License.

2. Author(s)' Warranties
The author(s) warrants that the article is original, written by stated author(s), has not been published before, contains no unlawful statements, does not infringe the rights of others, is subject to copyright that is vested exclusively in the author and free of any third party rights, and that any necessary permissions to quote from other sources have been obtained by the author(s).
3. User Rights
INVOTEK adopts the spirit of open access and open science, which disseminates articles published as free as possible under the Creative Commons license.INVOTEK permits users to copy, distribute, display, and perform the work for non-commercial purposes only. Users will also need to attribute authors and INVOTEK on distributing works in the journal.
4. Rights of Authors
Authors retain the following rights:
Copyright, and other proprietary rights relating to the article, such as patent rights,
the right to use the substance of the article in future own works, including lectures and books,
the right to reproduce the article for own purposes,
the right to self-archive the article.
the right to enter into separate, additional contractual arrangements for the non-exclusive distribution of the article's published version (e.g., post it to an institutional repository or publish it in a book), with an acknowledgement of its initial publication in this journal INVOTEK
5. Co-Authorship
If the article was jointly prepared by other authors; upon submitting the article, the author is agreed on this form and warrants that he/she has been authorized by all co-authors on their behalf, and agrees to inform his/her co-authors. INVOTEK will be freed on any disputes that will occur regarding this issue.
7. Royalties
By submitting the articles, the authors agreed that no fees are payable from INVOTEK.
8. Miscellaneous
INVOTEK will publish the article (or have it published) in the journal if the article's editorial process is successfully completed and INVOTEK or its sublicensee has become obligated to have the article published. INVOTEK may adjust the article to a style of punctuation, spelling, capitalization, referencing and usage that it deems appropriate. The author acknowledges that the article may be published so that it will be publicly accessible and such access will be free of charge for the readers.